David W. Mayer's Landscape Oil Painting Workshops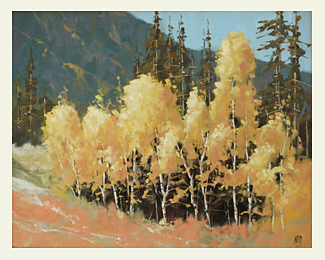 David offers landscape oil painting classes within Colorado and the West which focus on "plein air" painting directly from nature to capture the colors, patterns and values that photography alone cannot achieve. David has developed a structured approach to painting the Western landscape, ideal for beginning, intermediate and advanced students, based on blending approaches of the early plein air masters John F. Carlson, Edgar A. Payne and Emille Gruppe, as well as contemporary approaches to landscape painting. His instructional emphasis is on providing solid processes and procedures, such as developing "shape maps" and 3-value studies, understanding outdoor landscape composition and using limited palettes for achieving real growth as an artist.
Click Here To See David's Latest Workshop Student Testimonials!
---
PREVIOUS PLEIN AIR WORKSHOPS
Students Enjoyed David's 3-Day Plein Air Workshop in the Marvelous Country Around Glacier National Park and Northern Montana!
"Josephine Lake, Glacier National Park"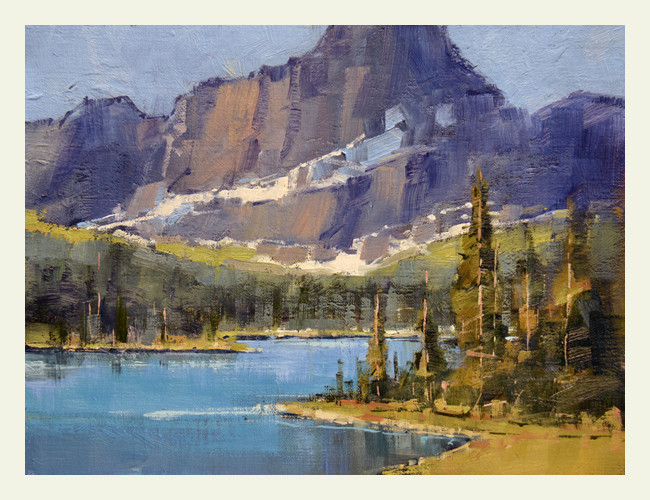 "Josephine Lake, Glacier National Park", Oil on Panel, 9x12 SOLD Private Collector
"Two Medicine Lake, Glacier National Park"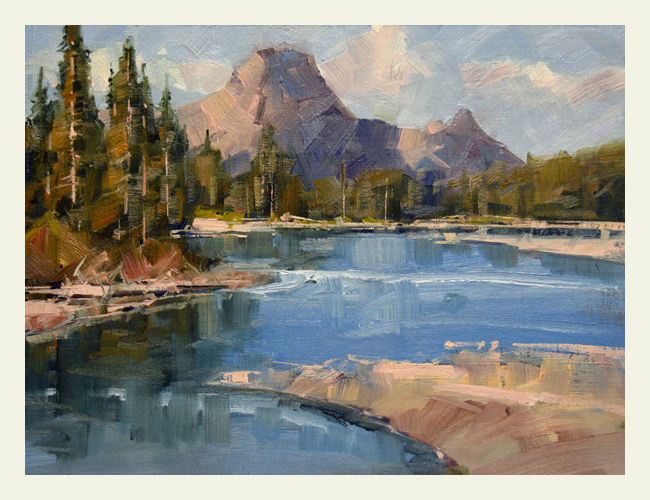 "Two Medicine Lake, Glacier National Park", Oil on Panel, 9x12 SOLD Private Collector
---
Recent Workshop Student Testimonials
As an artist and facilitator of the Masterworks of New Mexico workshop, I appreciated David Mayer's structured approach to painting the landscape. For artists seeking to advance their skills without feeling overwhelmed from the challenges posed by painting from nature, David Mayer offers a clear road map of specific principles to help them reach their goal. Tom B.
I want you to know how much I learned from you in the workshop. I didn't feel that I went home with too much to show for it at first, but I took out a small oil painting that I was frustrated with and I saw immediately where I should have put my lights and darks. I "woke it up" in just a few minutes and that made me feel like I had indeed gained a new "seeing eye". So I know I'm way ahead of where I was before the workshop. Judy A.
Thank you so much for a wonderful experience!  I had no idea what to expect when I signed up, but it definitely exceeded all my expectations.  David, it was wonderful to meet you and your generous and patient manner when working with all of us, no matter what level, was very appreciated.  I really feel like I can go out and paint from nature now, instead of feeling totally overwhelmed when facing the vastness of a scene and not knowing where to even begin!  Sarah S.
As one who is new to oil painting, the workshop was very educational and enjoyable, David is a terrific teacher. I feel I now have a great foundation to build on and can't wait to get out and start painting!
Kathy A.
Thanks for an excellent workshop. The studies with 3 different values, the large paint puddles mixed from primary colors, and the conscious looking for significant shapes and contrast in a scene were most beneficial for me. I also appreciated your comments and suggestions of my sketches and painting so, all in all, a good learning workshop. Paul T.
I have taken a number of workshops from some very well known artists, but David is the only one who really teaches the basics of how to see values, create composition shape maps, mix colors and how to "lay down oil paint". Worth every penny! Jill F.
The workshop was great fun! I really enjoyed the participants, the locations, and, especially, your instruction! You are gifted artist and teacher. So many good artists are very poor at communicating their knowledge to others, but you did a wonderful job of creating a supportive atmosphere and presenting the material in a measured and understandable way. Bill D.
I really did learn a lot. In fact my head is overflowing with what I learned. Every time I look at something I'm squinting and looking at values! It was a nice three days. Thanks for a great workshop. Patty A.
Thanks for all the wonderful information you shared with us. It was a GREAT week. Becky E.
"After this time spent with you in Colorado, I feel that I am now seeing things for the first time. What helped me the most was the shape maps and beginning to see how to create interest by using some of your secrets". Kelly M.
"The workshop you presented was an enjoyable, inspirational, educational and just plain fun. Thank you for a few short days of creativity that is the highlight of my year. You provided all the above in abundance." Cliff A.
"I truly enjoyed your workshop. You are good at getting what you know across to your students. You aren't intimidating and I really appreciated your sharing what you have learned." Jan W.
"David gave me a mental backpack full of solid information I can take wherever I go to paint!" Marie J.
"Thank you for making the workshop so enjoyable. You're an excellent teacher, and your manner in front of the class is very pleasant. I hope the exercise on values translates into some serious improvements in my painting. Seeing the other student's excellent starts made me a believer." Bonnie M.
© Copyright 2020 West Creek Studio LLC and David W. Mayer, Lafayette, Colorado USA. All rights reserved.
Paintings shown on this website may not be copied, duplicated, reproduced or distributed in any media or by any means without
the expressed written permission of the artist.